We received an e-mail from some RBARI alumni that was so special that we wanted to share
Thanks for letting us share, Schoenbach family!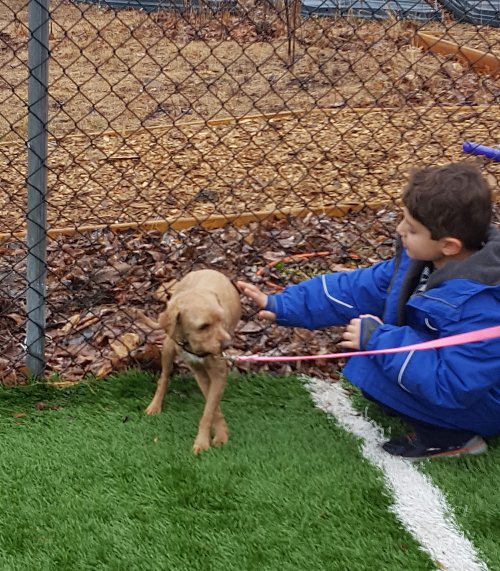 Dear RBARI Staff,
As we're closing in on the end of 2018, I've been thinking a lot about some of the major things that have happened in my life this year, and I felt the urge to reach out to you.
At this time one year ago, there were a dozen dogs locked in cages in the most horrible of conditions in a house in Patterson. They never knew life would get better for them. Heck, they likely never knew life could be any different than it was as they had been locked up their entire lives. At the same time, about 25 miles away, my wife and I were having nightly conversations about bringing another dog into the house. We had one already, a wonderful 2.5-year-old Goldendoodle named Lola who was so smart and friendly and loving and we referred to it as wanting to get Lola her own dog. We work, the kids go to school, and she should have a friend/sibling to hang out with all the time. The problem is, my daughter has very bad allergies. While we wanted to adopt when we first got Lola, we needed to make sure we were getting a hypoallergenic dog, so we got her from a breeder. We were thinking we would need to go that route again this time around, but we really wanted to adopt.
A week or so after the calendar turned to 2018, the perfect storm happened and everything changed. First for those dogs in Patterson. They were rescued, brought to RBARI, cleaned up, brought to a doctor, given names from the Muppet Show (a favorite in our household) and put up for adoption. Then my wife (who is always afraid to go on the pet adoption websites because the emotional side of her wants to take every dog home with her and the practical side understands that is not possible, making her very sad) happened to look at one and saw these dogs. She showed me a dog named Sweetums and we decided to drive down to Oakland to have a look. Unfortunately, by the time we got there, Sweetums had been spoken for. We looked at the other five "muppets" that were left and Fozzie just spoke to us. We met him, sat with him, he ate some kibble from our hands and we were instantly in love. And the best part is, he's a Maltipoo, so he's hypoallergenic!
The next step was to come down with our three kids and Lola to meet him and make sure everyone gets along.  He was shy at first (see attached photo named "Ryan_meets_Otto") but seemed to enjoy our company. Then something happened that cinched it. One of the dog-walkers brought Tinkerbell into the other pen and Lola saw this. She did what she always does when she sees a dog from afar. She went and stood at the side of the pen closest to where Tinkerbell was and barked while wagging her tail. Well, Fozzie saw this and ran right over next to Lola and started barking and wagging his tail, too. Like he already figured out that this dog can teach him a thing or two. With that, we knew not only would they get along, but that Lola would teach him everything he needed to know.
It has been 11 months since we brought him home with us. His new name is Otto. In that 11 months since he chose us, he has learned to play with toys, accept tummy rubs, give tons of hugs and kisses, and yes, still bark at whatever his big sister Lola barks at when she's looking out the window. He has brought so much joy into our lives and I feel like we have brought so much joy into his. A life he likely never knew was possible at this time last year.
So again, I just wanted to thank you from the bottom of my heart for not only what you did for my family, but for what you do for countless other families and animals in our area.
Sincerely, 
Mike, Emily, Katelyn, Ryan, Owen, Lola & Otto Schoenbach
P.S. Attached is a picture of Lola & Otto so you can see what he looks like hanging out with his sister now that his hair has grown in.