Paint-Your-Pet Fundraiser for RBARI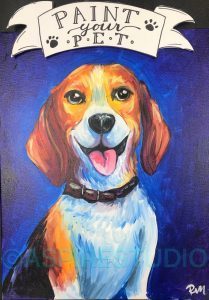 Are you ready for a fun time? This class is recommended for ages 12+. This is a special class taught a little differently. Instead of everyone painting the same painting that the instructor teaches step-by-step, for this class, the instructor teaches techniques that helps everyone to paint their own pets.
IMPORTANT NOTE – Please submit a picture of your pet with your name and your pets name to info@aspirepaintstudio.com by Wednesday October 9th. Please mark the subject of the email with Paint-Your-Pet 10/11. We need time to prepare your canvases, one pet per painting. As a general guideline, the higher the resolution, the better. Look for images that have good lighting (outdoors is usually best, but indoors is okay as long as there is plenty of light) and focus primarily on the face. We'll paint the backgrounds in just one or two colors, eliminating detail so that you can focus on the pet itself.
ASPIRE Studio will be donating 50% of the proceeds from this event to RBARI (Ramapo-Bergen Animal Refuge, Inc., an animal rescue organization that is dedicated to the rescue, rehab, and adoption of homeless dogs and cats. For more information, go to www.rbari.org.
We are a BYOB, so please bring your own beverage of choice (please, no hard liquor) with you to the class. We provide glasses and bottle openers. You may also bring any snacks for in case you get hungry during the class.
Please arrive 15 minutes before the class start time. That gives enough time to check-in, grab an apron, uncork and pour, and get settled into your seat. Painting will begin at the scheduled start time. If you are 15 mins late, you will need to catch up on your own, and if you are 30 mins late, you will not be allowed to paint and your payment will not be refunded.
ASPIRE Studio is for paid customers only. Everyone needs a paid seat to be able to stay for the class.
We can't wait to see you!