Boiling Springs Savings Bank Community Alliance Program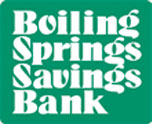 Boiling Springs Savings Bank has partnered with Ramapo-Bergen Animal Refuge, Inc. to make an annual contribution based on the average balance in all members' accounts.  To help drive donations for the shelter, we are asking supporters to open an account at Boiling Springs Savings Bank in order to qualify for the program. 
By opening a new account, or identifying an existing account with Boiling Springs Savings Bank, your account will be designated as a Community Alliance participant. Once a minimum of twenty individuals and/or businesses become program participants, RBARI will receive quarterly rewards. Rewards are based on the Average Daily Balance maintained by the members at the Annual Rate of 1/4% on Certificates of Deposit, including IRAs, Premium and Money Market checking accounts, and all business accounts; or 1/2% on other checking, savings, and Money Market savings accounts. No monies are withdrawn from donors' accounts. All donations come directly from Boiling Springs Savings Bank.
If you already have an account at Boiling Springs, we invite you to designate your account as a Ramapo-Bergen Animal Refuge, Inc. supporter by filling out the member account form and dropping it off at your local Boiling Springs Savings Bank branch.  Thank you!
You can go to https://www.bssbank.com/en/community-alliance-program for more information.