Volunteering at RBARI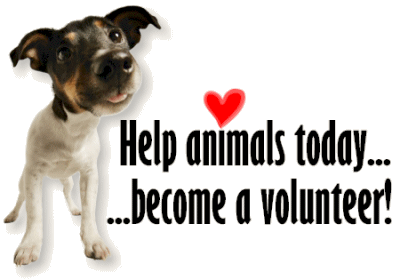 Our shelter was founded by dedicated volunteers and much of what we do to save more lives depends on the help of volunteers.
Volunteering is fun and rewarding and it's also a great way to help homeless animals. Just a few hours every week can make a big difference.
Volunteer Opportunities (hands on with the animals). All volunteers working with our animals must be 18 years of age or older.
There are also many other ways you and family members can help support our shelter beyond "hands on" work with our animals.  
Fundraising (donating proceeds from a bake sale, car wash, garage sale, etc.)
Helping organize events by joining event committees such as our yearly Tricky Tray, Whiskers & Tails Charity Ball, Pitbulls & Pumpkins, and more!
Holding a "wish list" drive to help collect needed items for the shelter 
Posting flyers for upcoming events (in your town, work, etc.)
Sponsoring a RBARI animal through our Fund-A-Friend program for $20/month
Donating items no longer needed to the Community Thrift Shop at 85 Godwin Avenue, Midland Park, NJ 07432.  RBARI will receive a percentage of items sold.
Educating family/friends about spaying/neutering and responsible pet ownership
Sponsoring an outdoor cat for spay/neuter (male $40, female $55)
Distributing information about RBARI at a local pet store/supermarket
Selling tickets for events (through friends, at work or via local retailers)
Transporting (occasionally drivers are needed to transport cats/dogs within the tri-state area to bring to the shelter or pick up donated items.)
Helping with shelter communication (Mailings, invitations, etc.)
Donating photocopies of needed shelter forms 
Maintenance (painting, landscaping, carpentry, electrical, plumbing – help with small "handy man" jobs at the shelter) 
Although all volunteers must be at least 18 years of age to work at the shelter, we still appreciate the efforts of young helpers! Click here for opportunities for younger volunteers to help our animals.
Before you start, we'll need you to fill out an application form and attend volunteer orientation. 
IF YOU HAVE QUESTIONS, PLEASE CALL 201-337-5180 or e-mail VOLUNTEER@RBARI.ORG
Thank You!