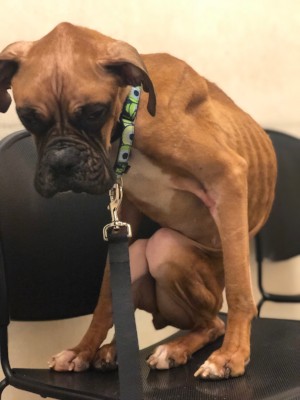 Kira has spent a lifetime waiting. She waited for someone to notice her slowly wasting away. Waited for them to remember that she was hungry. She waited for a crumb to drop. Waited for a comfy bed or couch that she would be lucky enough to lie on. Most of all, Kira waited for the kindness of human touch, someone to love and pay attention to her. When she chewed a rawhide so enthusiastically that she had to visit a doctor because it got stuck in her mouth, she thought her wait had finally come to an end! The kind touch of the doctor and staff was what she had been waiting for! They noticed that she was emaciated. They told her she was a good girl. She saw their hearts breaking for her as they recommended testing to discover why she was so thin and suggested deworming her to ensure that parasites weren't causing her to waste away. She knew they didn't want her to leave. However, after the rawhide was removed, Kira returned home to wait.
The days were long, and the nights were longer. All Kira could do was wait. It seemed like help would never come for poor Kira, whose stomach ached with hunger, and body burned from urine soaked pressure sores. Kira didn't give up. Kira didn't accept her fate. She decided to call for help. Kira's will to live is what got her rescued. Kira barked and barked – calling out for that kind touch that she had once found. Her persistence paid off! Kira was surrendered to RBARI in a state of starvation and near death – not because of her physical condition, but because she barked too much.
The abuse and neglect cases we take on at RBARI often are difficult to look at. Kira's case is no different. It hurts us to look at these images. We have to naturally turn away, tears rolling down our cheeks. Imagining how long it took for this beautiful girl to depreciate into this skeletal state is impossible to wrap our heads around. We wonder how her owners could eat in her presence, how they could laugh, how they could lay in their comfortable beds – knowing that Kira was slowly starving to death, soaked in her own urine with pressure sores building from lying on hard urine-soaked surfaces. It's impossible for any of us to imagine, knowing that we would sooner starve ourselves than allow this to happen to such a sweet, loving, forgiving animal.
We don't know Kira's whole truth yet. We don't know why she is in this state of starvation and we don't want to imagine or assume that she was just simply not fed. Kira is undergoing a comprehensive battery of tests to determine if there is an underlying medical issue causing her emaciated condition. What we do know is that Kira desperately needed help for a long time, and instead, she waited a painfully long time before she fought her way to RBARI. Thank you Kira for being such a fighter. Please join us in fighting with Kira for a brighter tomorrow.​​​​