Welcome to RBARI's Newsletter!
RBARI is Saving More Lives Every Day!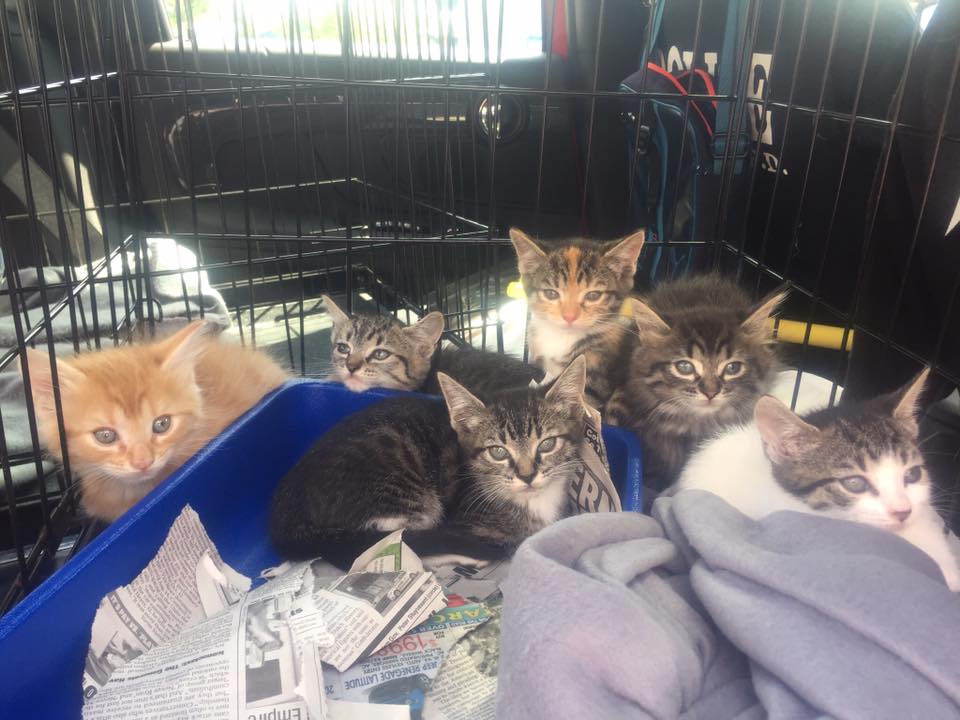 As the devastation of natural disasters around the nation continues to unfold, the Ramapo-Bergen Animal Refuge, Inc. would like to send our thoughts and prayers to all of those impacted. In times of natural disaster, we all search for ways to help, for the right role to play, and for a way to make a difference in the lives impacted. So, how can RBARI best support the animal welfare community in this time of rescue and recovery?
After much thought and discussion, RBARI has concluded that as the shelters and rescues in Northern New Jersey are filling to capacity in the wake of these storms, the most impactful way we can make a difference is to continue to do what we are best at. RBARI will continue to be committed to rescuing the animals in our community who need us most, taking on the critical medical and rescue cases that others cannot, receiving local surrenders and taking in dogs and cats in their final hours before being euthanized. To understand why this need is so critical, please take a moment to review 2016 New Jersey statistics with regards to animal control. The numbers are shocking.
We want to share with you some of the new intakes from RBARI, all rescued from increasingly overcrowded local shelters. Unfortunately, shelters that rely heavily on rescue are now hearing from rescue groups that they are unable to help because of high intake, so we are desperately trying to fill that need. Please click on the photo of Bobby, Matilda, Sienna, Sage, Eloise and Paige above or of Paulie below to learn more about them and some of their friends!
As local shelters reach maximum capacity, RBARI needs to be here to take the surrenders that others will not have room for or will have to euthanize due to overcrowding. We will need to be ready to pull dogs and cats who are facing being euthanized and those who are in desperate need of medical care to survive. As a rescue community, we are all in this together. We will continue to support our community and ensure that we can intake surrenders with nowhere else to go. We will continue to intake dogs and cats from local inner-city animal control facilities at maximum capacity, help with critical medical cases, and provide last minute reprieve for dogs and cats facing euthanasia due to lack of space.
As our community, how can you help? 
Adopt, foster and spread the word about the beautiful adoptable dogs and cats currently in need of homes through RBARI and so many other local rescues and shelters. If you cannot adopt, please share videos and photos of our adoptable animals from our Facebook and website to help us find forever homes. RBARI needs fosters to help temporarily home our dogs and cats, leaving room in the shelter for others in desperate need of rescue. We are collecting donations to support rescue efforts. Please contact us if you are interested in adoption or fostering!
Most importantly, we encourage you to do what you can during this time of great need in our country.  Please support those who are sheltering and taking dogs and cats, those helping on the ground in disaster zones, and those of us continuing to support our local communities as we all come together to save more lives.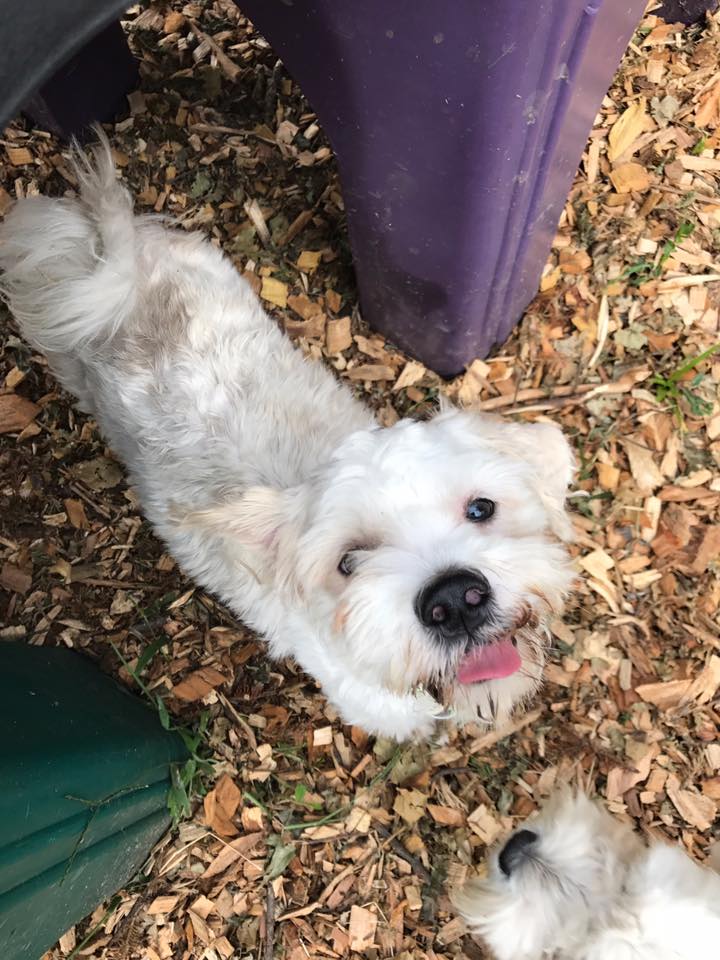 Sydney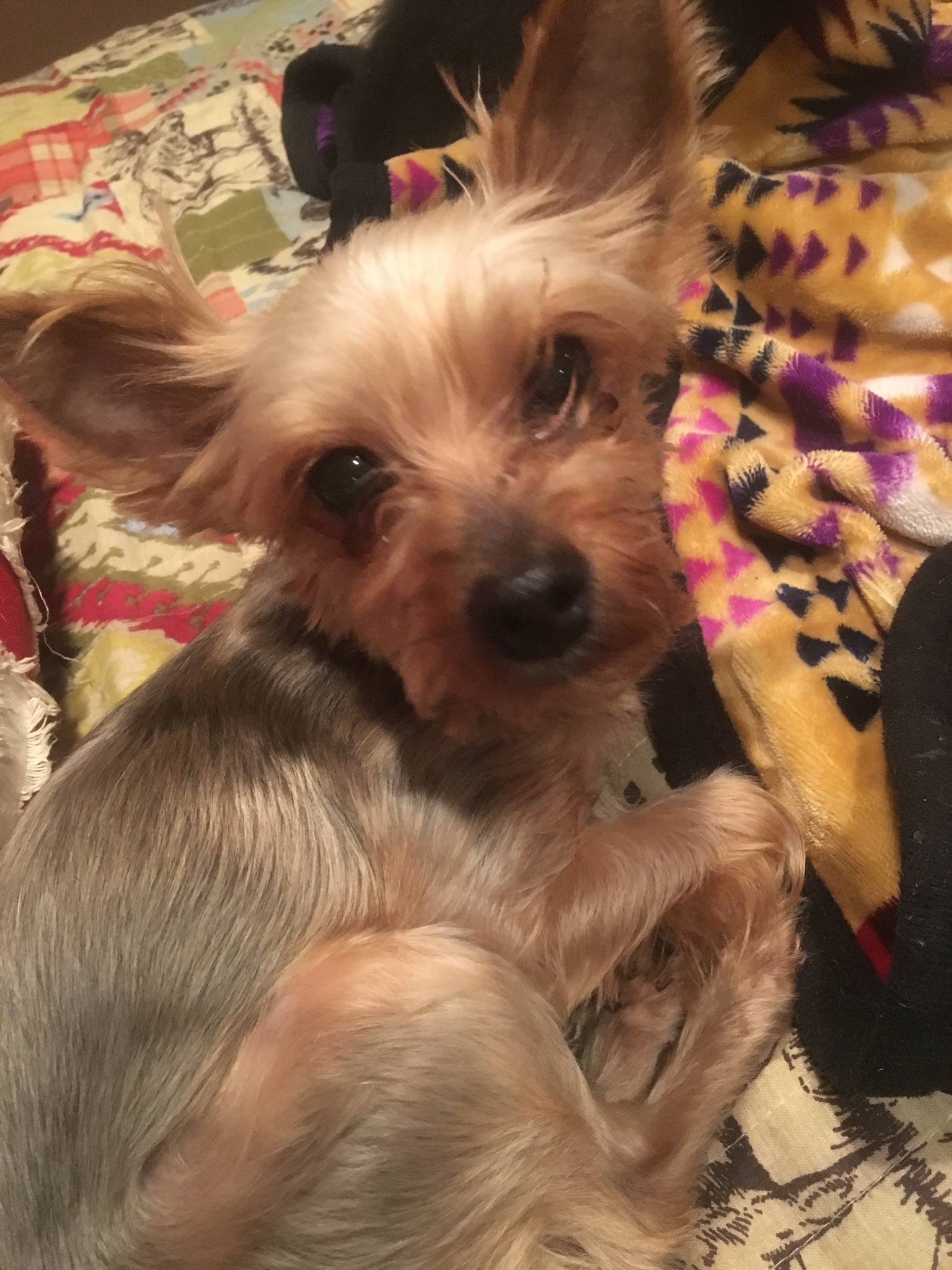 When the staff at Ramapo-Bergen Animal Refuge heard that a tiny dog was thrown out of the window of a car on the Bronx River Parkway, we sprung to action.  Thanks to the kind and brave firemen of the FDNY Engine 63, Ladder 39 and Battalion 15, this tiny Yorkie now called "Sydney" was rescued and brought to safety at RBARI. Sydney has gone from a neglected, scared dog hidden by painful mats to a happy, loving little superstar helping to raise awareness about animal abuse.
Sydney was hospitalized at Oradell Animal Hospital and treated for her injuries. It wasn't until her painful mats were removed that doctors could fully examine her, including x-rays and ultrasound, to ensure that there were no broken bones or internal injuries. Amazingly, it seemed that her matting acted as a cushion from the fall. Considering the life that Sydney had led up until this point, she certainly deserved this miracle rescue.
Sydney was shaking and terrified upon arrival to the hospital, but only moments later, she curled up in the lap of Frannie, our Volunteer Coordinator, and breathed a huge sigh of relief. Sydney was treated for minor lacerations and will need follow up care to address the effects of years of neglect of her body, but amazingly Sydney suffered no major injuries from her trauma. After her release from the hospital, it was only natural that Sydney went home with Frannie, who is fostering her along with her crew of senior and small dog rescues. Sydney is truly flourishing and would very much benefit from a foster home where she can receive more individualized care and attention. She is seeking her forever home, but because she needs some medical care, we are looking to find a "foster with intent to adopt" home for Sydney. For now, she is happily curled up in a soft bed with all of her new friends.
UPDATE: Sydney has found her forever home!
Everley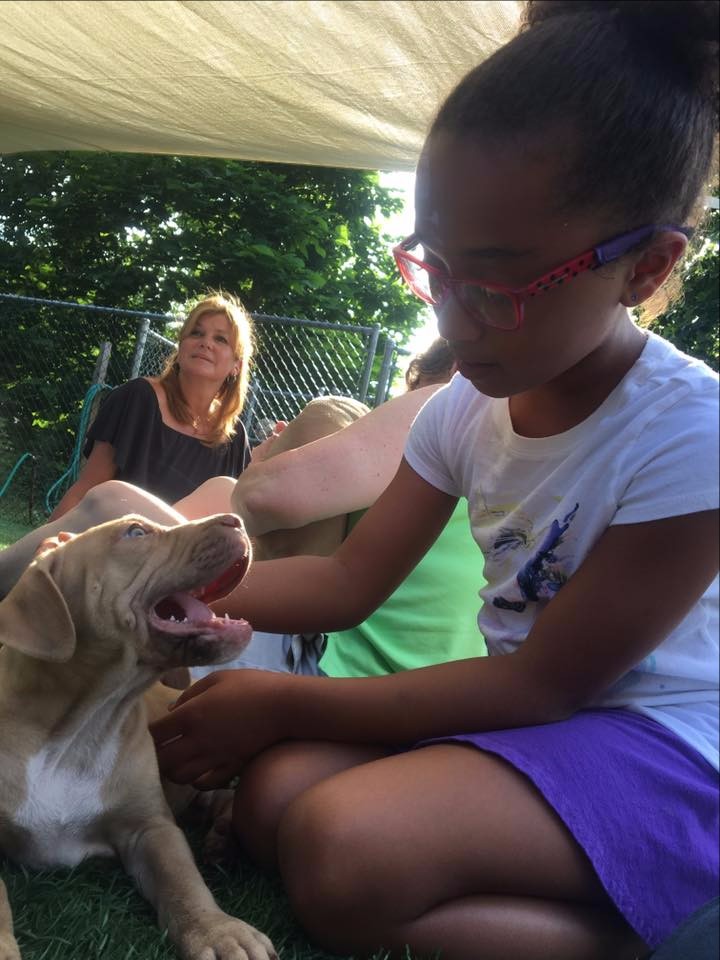 Months ago, we asked for your support when we heard of a sick, neglected, emaciated dog that had just given birth to a litter of puppies in a city shelter. Due to her condition, Everley was not lactating and likely could not raise the babies she was so desperately trying to protect. You answered our call for help with donations, dog food, beds, toys, thoughts, prayers, and an unbelievable amount of love and support that was showered onto Everley and her tiny family. Because of you, we were able to keep this family together and give Everley the support she needed to care for her puppies. With the support of our incredible community, we helped Everley to save her babies.
Everley and her puppies have faced many medical challenges along the way, but we were able to support her and overcome them. The care of our special needs babies often spans over the course of weeks, months and sometimes even years, which is why we have put in place an opportunity for our supporters to make monthly donations to care for these beautiful rescues along their journey. RBARI's goal is to save more lives, and with your help, we can undertake more remarkable rescues like Everley's through making a difference all year long. Become a RBARI Rescue Hero today by signing up to make a monthly pledge for Everley,her family, and so many other beautiful animals like her.
Our hearts were full when this miraculous little family came to visit RBARI for a very special meet and greet. We watched our community, staff, and volunteers meet this flourishing family for the first time. Our heartfelt thanks – from our amazing Everley and her miracle babies – to you for making this happen. Together, we have made all the difference in the lives of this beautiful little family.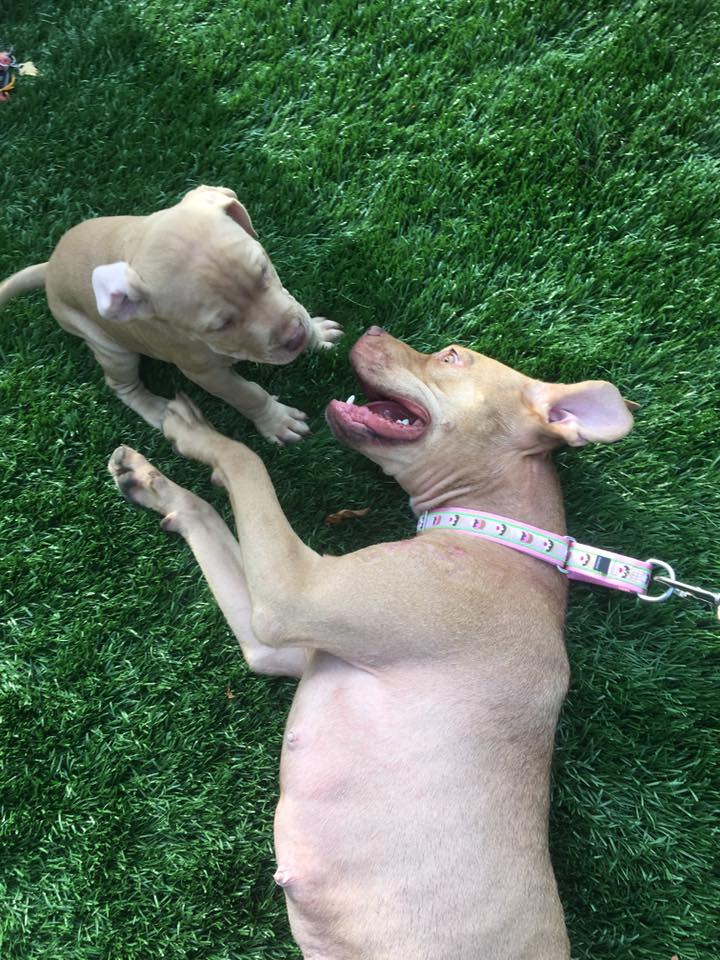 Check out all the photos from Everley and her puppies' very special meet and greet right here!
Pax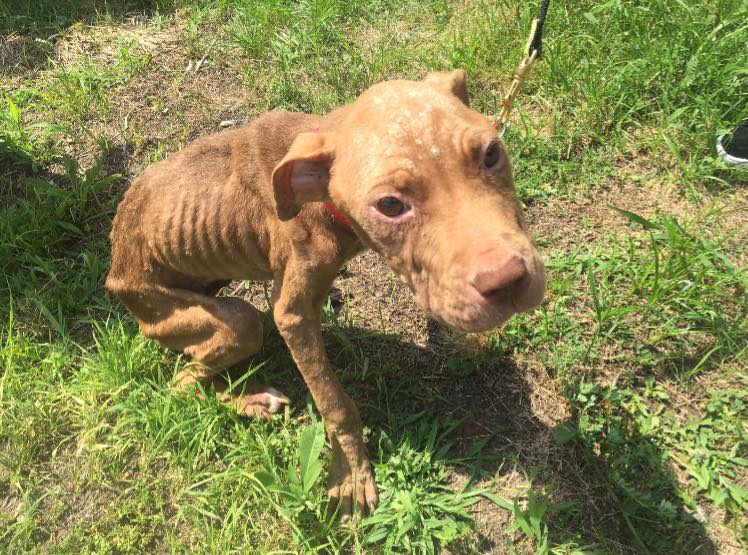 A year ago, an emaciated puppy was found tied out in extreme temperatures slowly dying. He broke our hearts as we heard of how he desperately ran to the toilet as soon as he was freed to get a drink of water, then collapsed from starvation, heat exhaustion and dehydration. Pax's rescue and subsequent medical care, training and adoption were nothing short of miraculous. Pax needed support every step of the way in his rehabilitation, but thanks to an amazing community, staff and a loving family, Pax is thriving in his forever home one year later. 
Pax sparked something at RBARI. He sparked a partnership with our community that has saved so many other extreme special needs cases in our community, such as Dottie, Annabelle, Lexi, Louie, Hannah, Faith, Sydney, Rumble, Marmalade, Everley and so many others. Pax showed us that with the support of our community, we at RBARI have the ability to save these special needs animals that otherwise would have no chance at life. We can't thank you enough for your partnership and support. You have allowed our Betty Lou Medical Fund and special needs rescue program to flourish into a program that is making miracles happen every day at RBARI.
RBARI can spring to action without hesitation when an urgent medical case is brought to our attention because of your support of the Betty Lou Medical Fund. 
Visit here to find out more about this fund!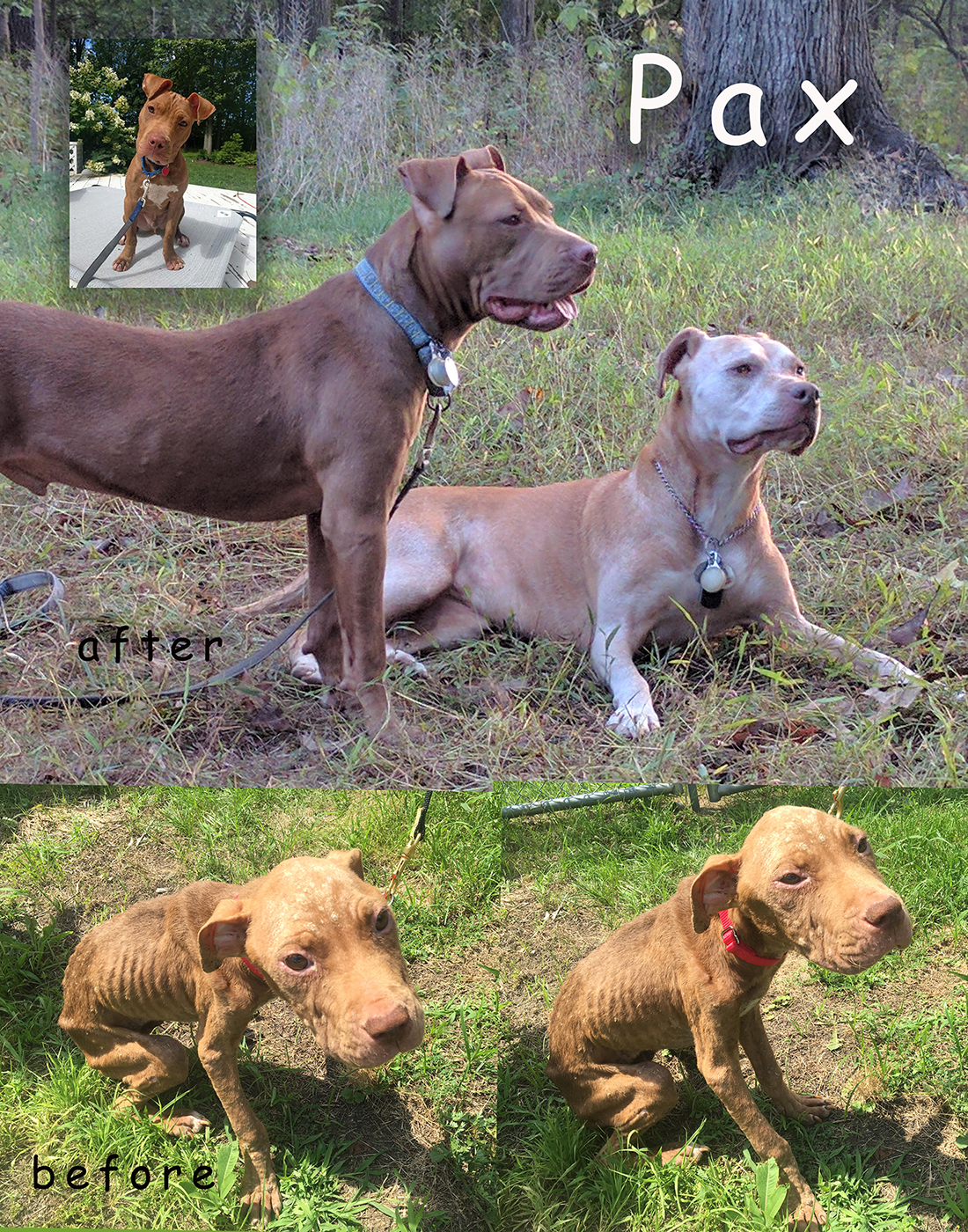 Petco's Holiday Wishes Grant Campaign!

Has a RBARI dog or cat changed your life? Share now to help raise up to $100,000 to help save more lives, and win a $1,000 Petco gift card for your pet!
Does your adopted dog or cat bring joy to your life and your family? By sharing your story, you will enter RBARI to win a grant through the Petco Foundation, awarding over $750,000 in Holiday Wishes this year! Simply share how your dog or cat has impacted your life in a positive way and how their love has changed your life. With each entry, RBARI will be eligible for up to $100,000 to make Holiday Wishes come true for cats and dogs in desperate need in our community! You will also have a chance to win a $1,000 gift card for your four-legged friends. Submit your story here today!
The deadline to submit your story is September 30th. Please share your story with us at execdir@rbari.og so that we can share on RBARI's Facebook page and to ensure that it meets the guidelines for a Holiday Wish come true!
To get a little into the upcoming holiday spirit, check out this photo taken by the new forever home of Dasher, an absolute sweetheart of a Beagle that was adopted from RBARI around the holidays last year!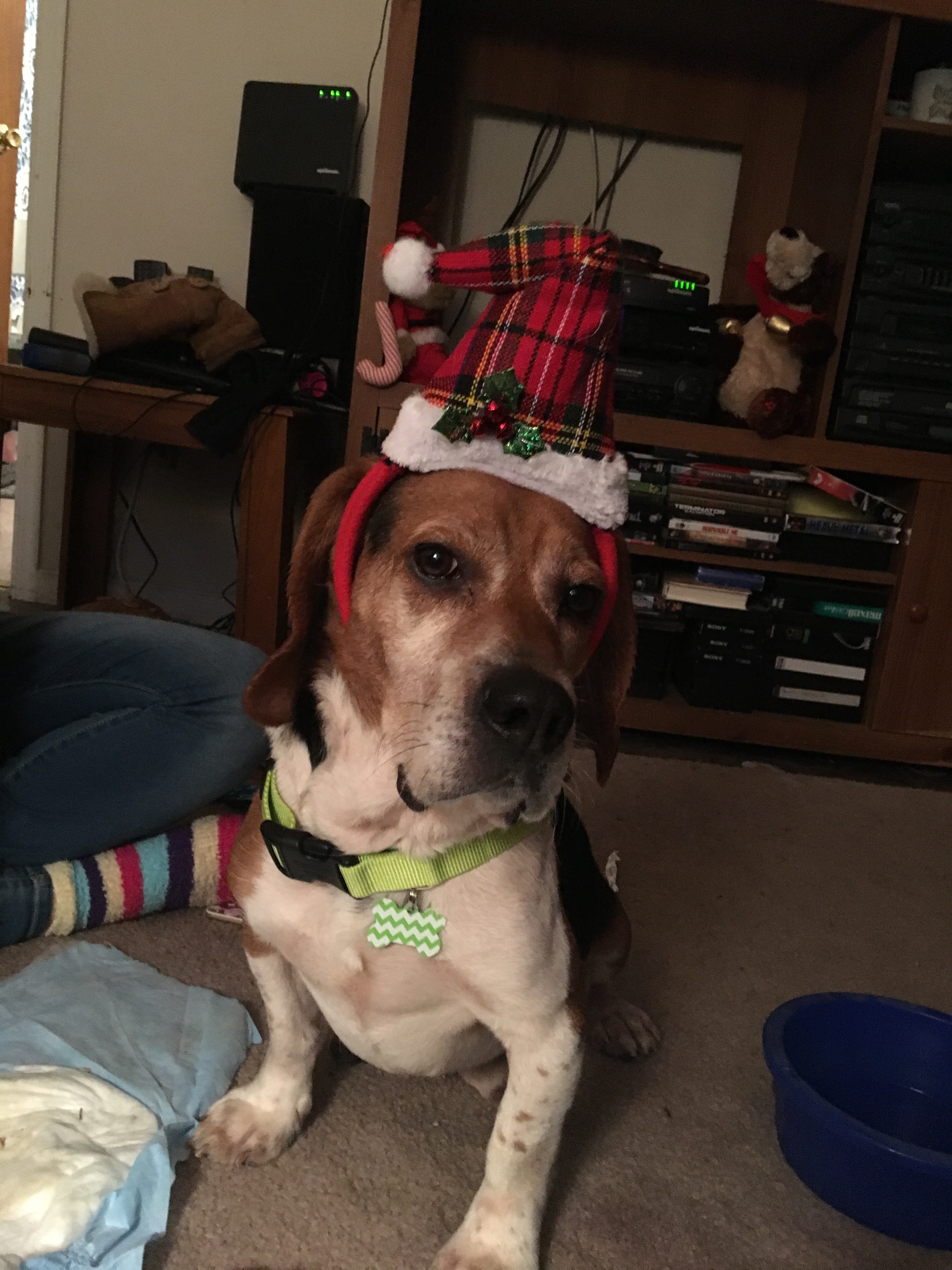 Pluto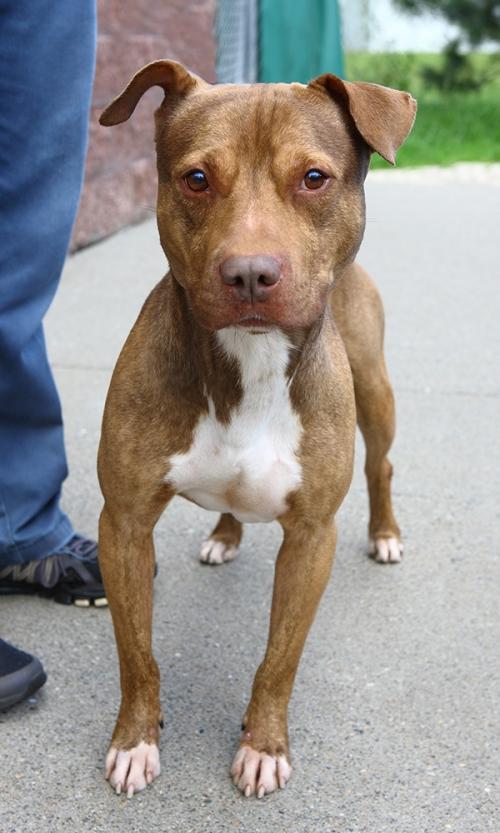 Pluto had a rough life and has never had the security of a permanent home. On top of that, our poor boy has a serious injury and needs surgery. Pluto has a torn meniscus and ACL and has been patiently waiting for surgery while struggling along on three legs. Pluto was surrendered to the Paterson pound because his owners "went away". Thankfully, Pluto is in the loving arms of RBARI where he will get all the love and care that he needs. His surgery was completed last month, and while he will have a long recovery, it will be worth it when he can finally run and play like he so deserves!
Pluto is a super sweet and friendly pup who craves the human attention he has never received. He is a small hound / pit mix at about 45 pounds who thinks he is a lap dog. Pluto is currently in a foster home for his recovery, but what he really needs is a furever home and family!
Click here to check out Pluto's adoption page!
Can't adopt Pluto, but want to help this beautiful boy find his happily ever after? Please consider making a donation to our Betty Lou Medical Fund. With YOUR help, we can help Pluto run free!
Paws-In-Hand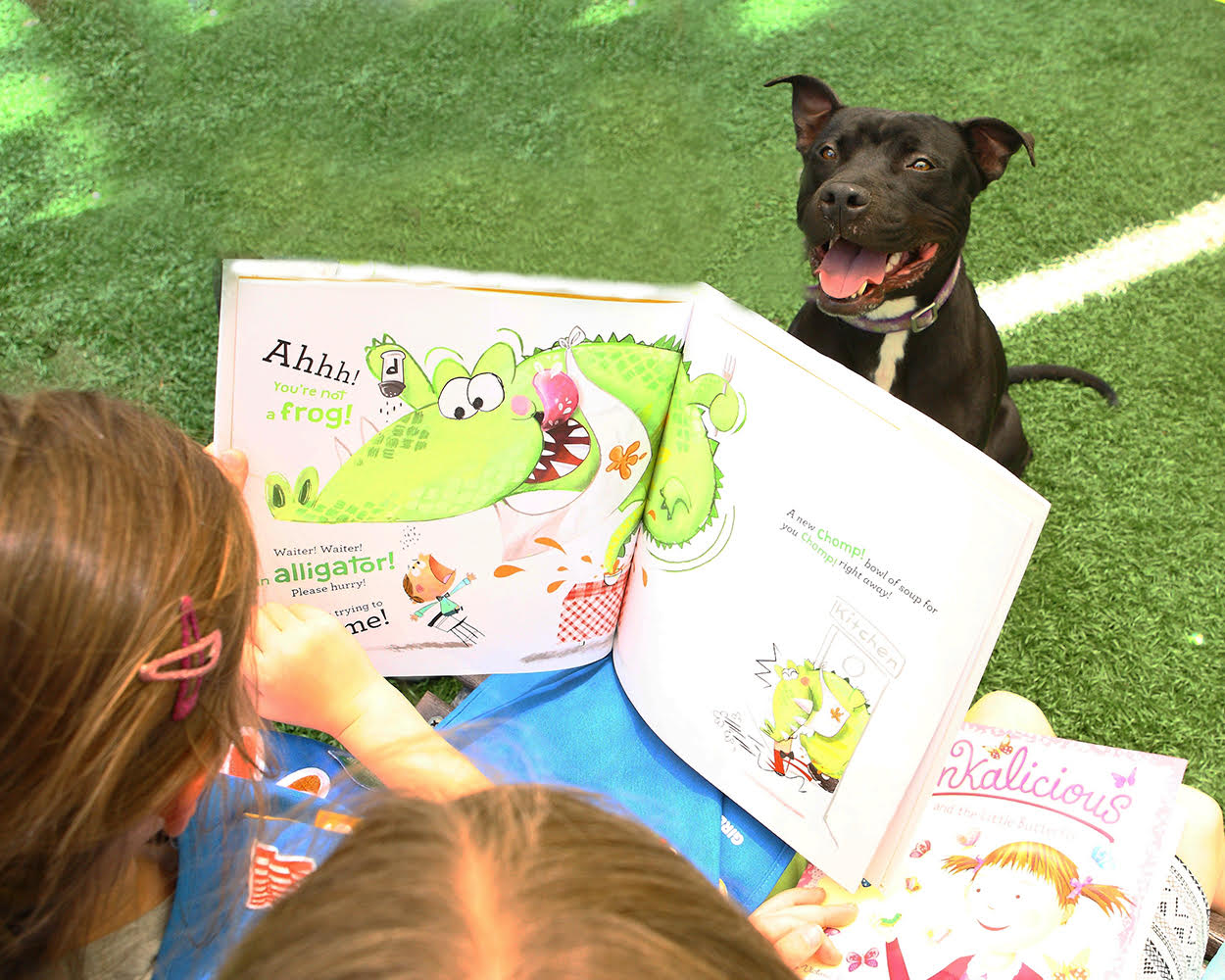 Paws-in-Hand is an innovative program at RBARI that links rescue, shelter dogs and pet therapy through training our rescue dogs to perform community outreach in local schools and beyond. Paws has flourished in the past year with the help of dedicated volunteers and amazing RBARI rescue dogs and cats, as well as alumni.  Most recently, we held a Reading to Rescue program that incorporated both dogs and cats. Local groups, like our visit from the Girl Scouts this month, join our RBARI dogs and cats and spend an hour reading to them. This is such a special time for our dogs and cats to get individual attention and experience the innocent compassion of children.
Paws is truly a unique program that benefits both community and the rescued animals at RBARI. Paws was founded with the goal of enriching the lives of children with special needs, educating them about animals, and teaching them how animals can help them lead fulfilling lives. This innovative shelter program is transforming the lives of children in the community, as well as the lives of the dogs and cats that are lucky enough to spend time weekly with the children. These animals are adopted out quickly because we can show the public how gentle they are with children of all ages and needs.
As our program grows, we need more volunteers and RBARI alumni rescues to join us! All volunteers and alumni RBARI animals are welcome. We are also seeking to train and certify some of our amazing RBARI dogs as therapy dogs! Please contact frannied@rbari.org to volunteer for this life-changing program. Visit our website to make a donation for Paws today!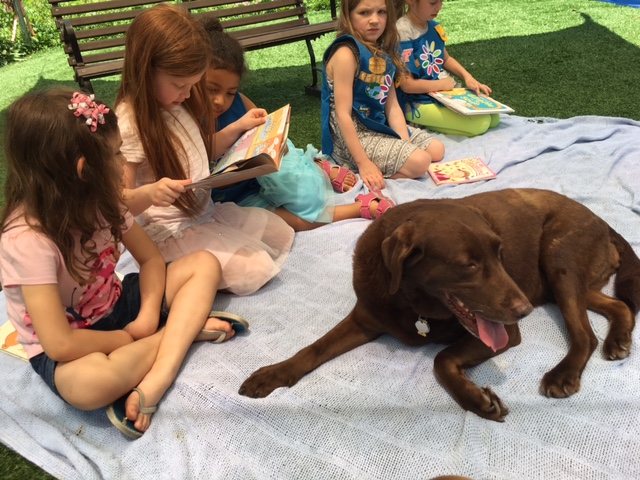 Happy Tails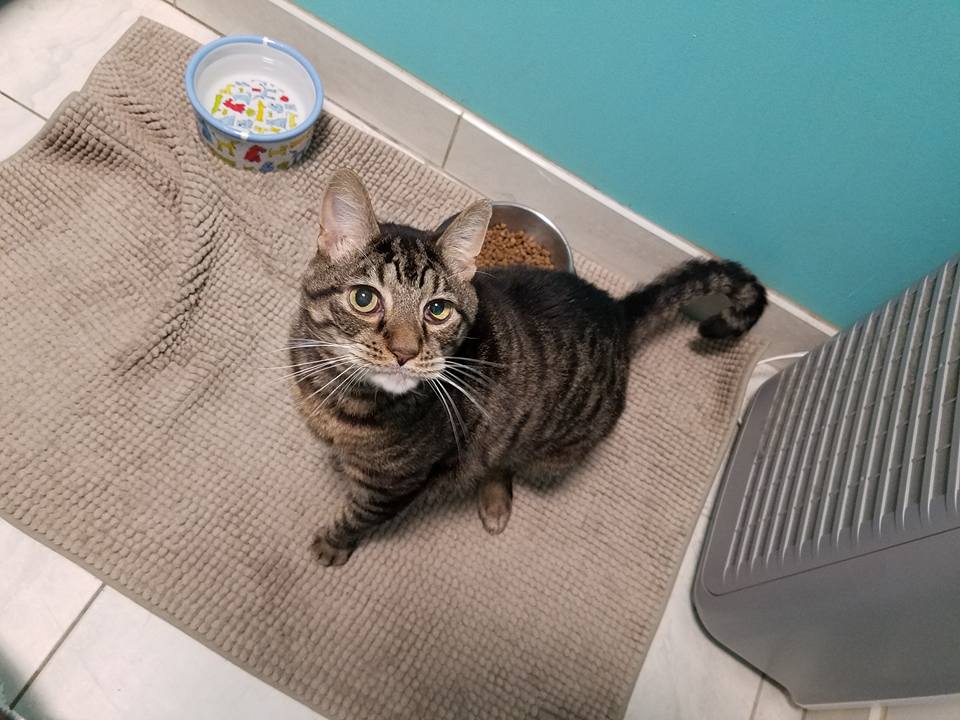 Thomas, a senior cat, was brought to RBARI in the trunk of a car, clearly terrified. While we knew he would be a difficult cat to socialize, we couldn't say no, and immediately had the family surrender him into our care. After months of socialization and care at RBARI, Thomas has found his forever home! He is truly an example of the difference that patience, love, and care makes in the life of a rescued animal. Thomas can now live out his golden years with a loving, attentive family, and a home of his own.
Manny was a senior kitty resident at RBARI who had battled cancer twice. We supported him along the way, unsure if he would find his forever home but giving him every bit of love and care we could. Amazingly, our sweet Manny was adopted by a loving family. His new mom knows what it's like to battle cancer, and she felt an immediate connection with Manny. We are so excited for Manny to have found his happily ever after!
Both Thomas and Manny were adopted after their forever families saw their videos and made a connection. Joining with our community and making these connections is how we can save more lives together. Thank you for following our amazing rescued dogs and cats along their journey and sharing their stories with your friends! Who knows – you could save a life just by sharing the story of a rescued dog or cat with your friends or on social media!
Above: Thomas!
Below: Manny!
Happy Tails from the Dog Kennel!
Jax, a 2 year-old Shiba Inu was surrendered to RBARI after her owner left him behind with her parents who couldn't care for him the way he needed. Jax took some time to warm up to new people and was sensitive with being touched. He was a bit stubborn, refusing walks while at RBARI, but always loved to play ball! He was adopted by Robin and Mike, who love the breed and their quirks and found his way to a new home state of Connecticut. Robin and Mike were willing to give Jax the time he needed to become comfortable and thrive in his new home! True to the dedication of RBARI staff and the determination of his new family to make the adoption a success, when Jax hurt his back legs, they worked together, drove many hours and had Jax examined by a RBARI veterinarian to ensure that he would have a comfortable experience. Jax is happy and doing great in his new home. His new family is very much in love with this quirky boy that they now call their own! 
Marty is a Shepherd/Rottweiler mix, approximately 4 years-old, who was surrendered to a local animal control with no information. He came to RBARI happy and friendly, but in time, he grew tired and weary of shelter life and wasn't comfortable being handled by so many people. Marty chose his friends carefully, only allowing those people to handle him and ended up being more of a one-person dog. He needed space to run and wanted to be with other dogs. With his friends, he was very loving, affectionate, and playful. Marty found his happily ever after with Judy and her son Greg who have 6 RBARI dogs. Judy has a special place in her heart for the dogs who have a harder time getting adopted. Marty now lives on a lake surrounding hiking trails where he hikes with his new pack every day. He bonded with the son and thinks it's his job to protect him from everyone. Hiking, having so much room to run and having the other dogs is a dream come true for Marty!