Happy Tails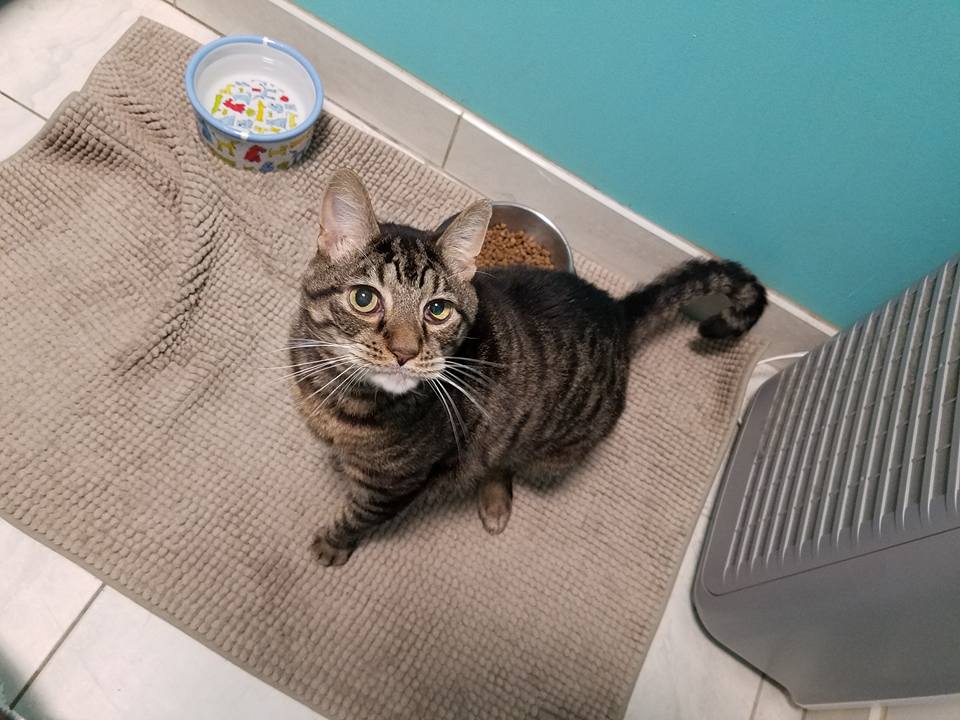 Thomas, a senior cat, was brought to RBARI in the trunk of a car, clearly terrified. While we knew he would be a difficult cat to socialize, we couldn't say no, and immediately had the family surrender him into our care. After months of socialization and care at RBARI, Thomas has found his forever home! He is truly an example of the difference that patience, love, and care makes in the life of a rescued animal. Thomas can now live out his golden years with a loving, attentive family, and a home of his own.
Manny was a senior kitty resident at RBARI who had battled cancer twice. We supported him along the way, unsure if he would find his forever home but giving him every bit of love and care we could. Amazingly, our sweet Manny was adopted by a loving family. His new mom knows what it's like to battle cancer, and she felt an immediate connection with Manny. We are so excited for Manny to have found his happily ever after!
Both Thomas and Manny were adopted after their forever families saw their videos and made a connection. Joining with our community and making these connections is how we can save more lives together. Thank you for following our amazing rescued dogs and cats along their journey and sharing their stories with your friends! Who knows – you could save a life just by sharing the story of a rescued dog or cat with your friends or on social media!
Above: Thomas!
Below: Manny!
Happy Tails from the Dog Kennel!
Jax, a 2 year-old Shiba Inu was surrendered to RBARI after her owner left him behind with her parents who couldn't care for him the way he needed. Jax took some time to warm up to new people and was sensitive with being touched. He was a bit stubborn, refusing walks while at RBARI, but always loved to play ball! He was adopted by Robin and Mike, who love the breed and their quirks and found his way to a new home state of Connecticut. Robin and Mike were willing to give Jax the time he needed to become comfortable and thrive in his new home! True to the dedication of RBARI staff and the determination of his new family to make the adoption a success, when Jax hurt his back legs, they worked together, drove many hours and had Jax examined by a RBARI veterinarian to ensure that he would have a comfortable experience. Jax is happy and doing great in his new home. His new family is very much in love with this quirky boy that they now call their own! 
Marty is a Shepherd/Rottweiler mix, approximately 4 years-old, who was surrendered to a local animal control with no information. He came to RBARI happy and friendly, but in time, he grew tired and weary of shelter life and wasn't comfortable being handled by so many people. Marty chose his friends carefully, only allowing those people to handle him and ended up being more of a one-person dog. He needed space to run and wanted to be with other dogs. With his friends, he was very loving, affectionate, and playful. Marty found his happily ever after with Judy and her son Greg who have 6 RBARI dogs. Judy has a special place in her heart for the dogs who have a harder time getting adopted. Marty now lives on a lake surrounding hiking trails where he hikes with his new pack every day. He bonded with the son and thinks it's his job to protect him from everyone. Hiking, having so much room to run and having the other dogs is a dream come true for Marty!