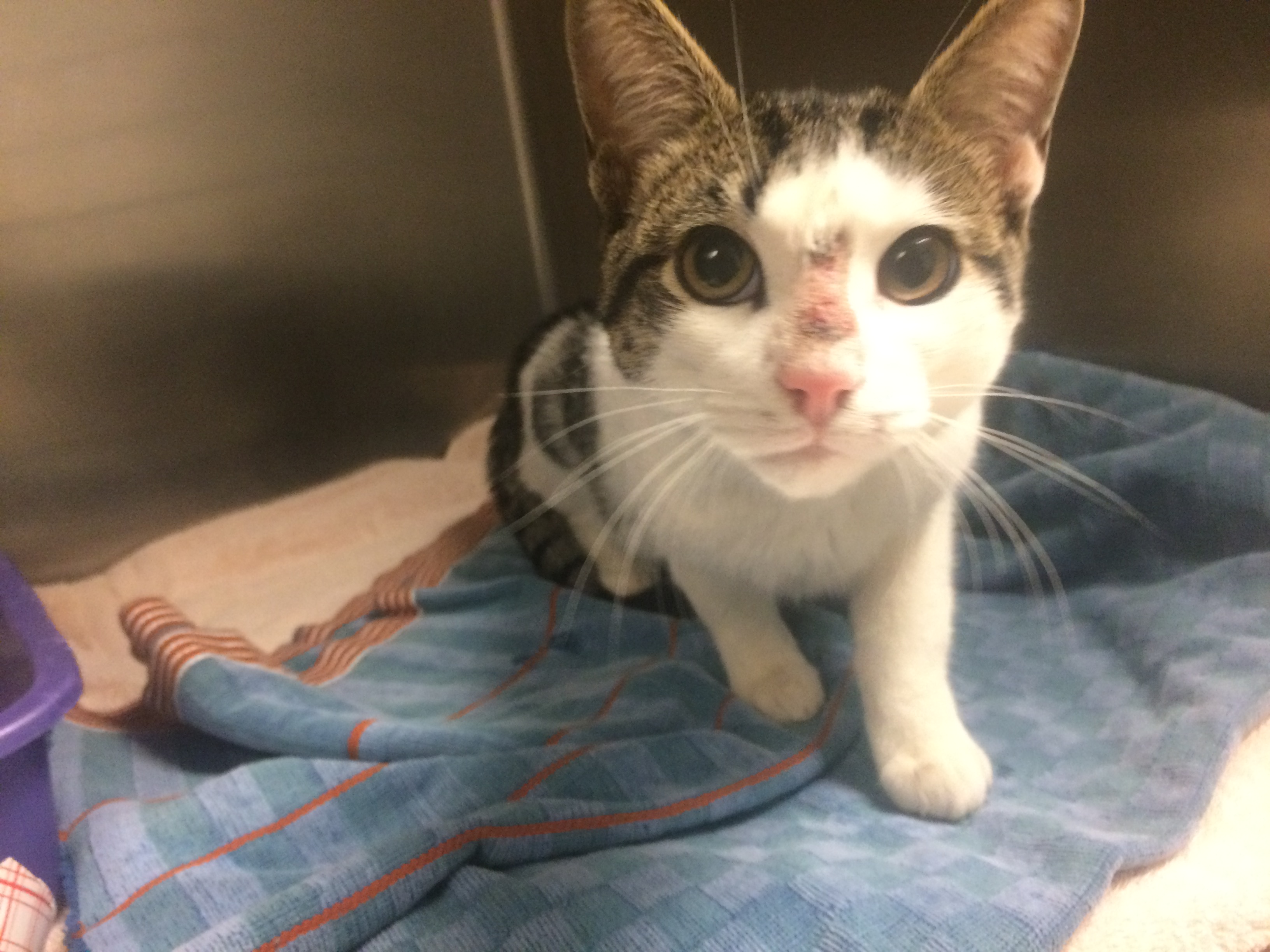 Every animal that comes through our doors has a story.  We want to share their stories with you so that together we can help these cherished animals in their journey to find forever homes. 
We don't know Nosey's entire story, but the part we do know is both heartbreaking and uplifting. Nosey was found as a stray in Paterson, sweet and friendly, but clearly seriously injured. He was trying to survive the streets, hobbling along on three legs while dragging his painful fourth leg along. Animal control reached out to RBARI for help, and we immediately responded, rushing Nosey to the hospital. What we discovered was heartbreaking. Nosey had a broken pelvis, likely from being hit by a car, resulting in the loss of use of one of his legs. As a result, his muscles atrophied, forcing him to survive the brutal winter on the streets with crippling pain. What he must have gone through in the past several months is hard to imagine. Manipulating Nosey's leg was nothing short of agonizing. Based on the diagnosis from an orthopedic specialist, amputation is Nosey's only solution. Nosey can have his surgery today and begin on his journey to a pain-free life with your support.
As difficult as Nosey's story is to hear, it is also uplifting. Nosey is sweet, young, and friendly - despite the pain he has come to accept. Nosey has survived and maintained a beautiful spirit, but with his body slowly healing the wrong way. Just imagine the strength it took this beautiful boy to endure severe trauma and then get up and drag himself along the streets, adapting his body to survive on 3 legs, searching each day for a glimmer of hope. You are Nosey's hope. Now, finally, Nosey is sleeping in a comfortable bed with pain medication to give him relief, always having access to food and water. Nosey is no longer limping along in search of a meal or safe place. Nosey has found a home with our RBARI family.
Nosey has a story that he alone carries, but in his next chapter, we will support him through his surgery and recovery. Please join us in being a part of Nosey's journey to a pain-free life by making a donation towards his surgery to the Betty Lou fund next to this write-up.
When communities call on us for help, we're only able to take on cases like Nosey's because of our amazing partnership with you – our RBARI community, our rescue family. We may not know Nosey's full story, but we are inspired by his determination to find help and happiness under horrific circumstances. We can't wait to see how his story unfolds!