You'll always know what's going on with our organization! Just bookmark this page and check back often for the latest programs and events.
RBARI can only authenticate and guarantee tickets sold directly by RBARI. Tickets purchased through other means may not be authentic and may not be able to be honored.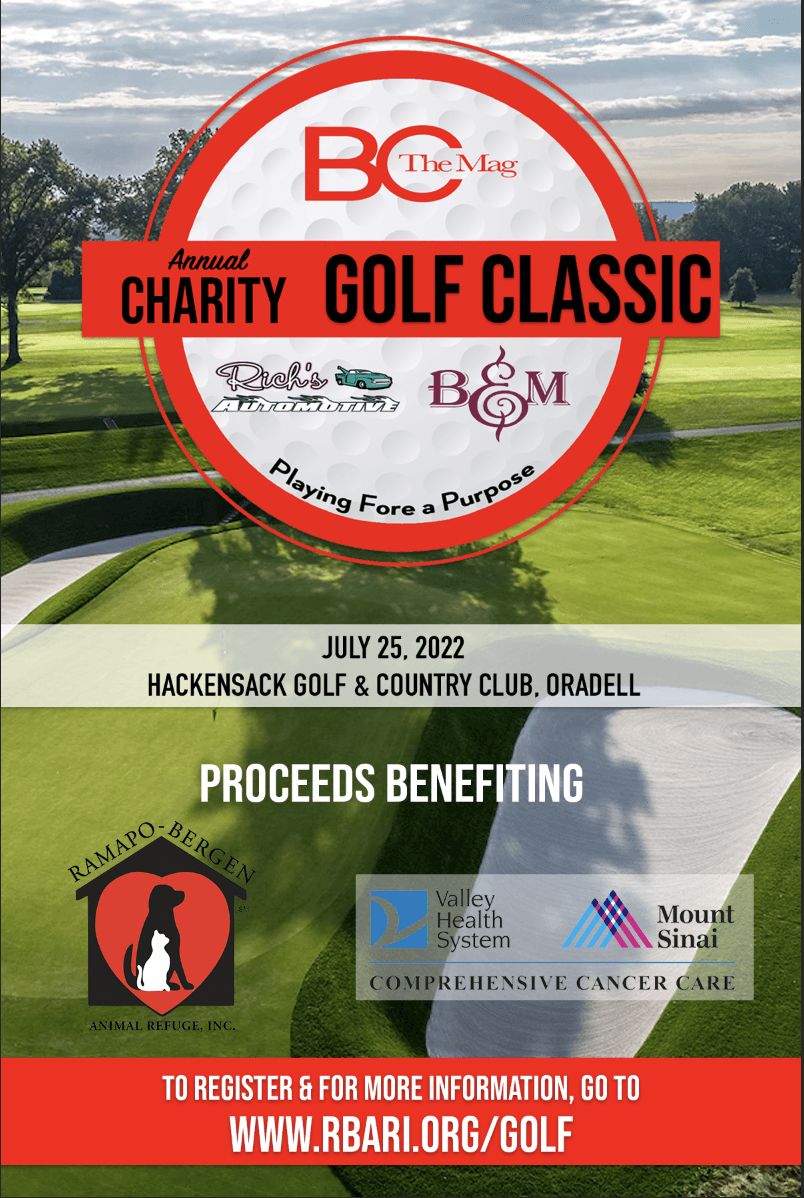 BC The Mag's Annual Charity Golf Classic 2022
Playing Fore a Purpose & Proceeds Benefiting RBARI!
Click here to register for this year's Golf Classic and play fore a purpose - all of our incredible animals and more lives needing saving!
Details
(Please include the names of your group members in the Comments box on the registration page)
$350.00 - Golf Individual: Golf registration includes lunch, snacks, & beverages during play, open bar, cocktail hour, & dinner. Price also includes access to locker facilities and giveaways.
$1,300.00 - Golf Foursome: Golf registration for a group of 4, includes lunch, snacks, & beverages during play, open bar, cocktail hour, & dinner. Price also includes access to locker facilities and giveaways.
$125.00 - Dinner: Registration includes open bar, cocktail hour, & dinner.
$250.00 - Tee Box Sign
Tentative Schedule
Registration/lunch begins at 11:30am
Shotgun begins at 1:00pm
Cocktail Hour begins at 5:30pm
Sponsorship Details
(Please send your logo(s) to: Steven@bcthemag.com)
$1,500.00 - Dinner: Sponsorship of Dinner
$1,500.00 - Cocktail Hour: Sponsorship of Cocktail Hour
$1,500.00 - Breakfast: Sponsorship of Breakfast
$1,200.00 - Hole: (2) Golf Tickets | Signage on 1 hole | Signage in Entry
$2,500.00 - Birdie: (4) Golf Tickets | Signage on 1 hole | Event Sponsor mention in all event collateral
$5,000.00 - Eagle: (4) Golf Tickets | Signage on 3 holes | Event Sponsor mention in all event collateral
$10,000.00 - Corporate: (8) Golf Tickets | Signage on 9 holes | Event Sponsor mention in all event collateral
$13,000.00 - Event Sponsor: (12) Golf Tickets | Signage on all holes | Signage on all carts | Event Sponsor mention in all event collateral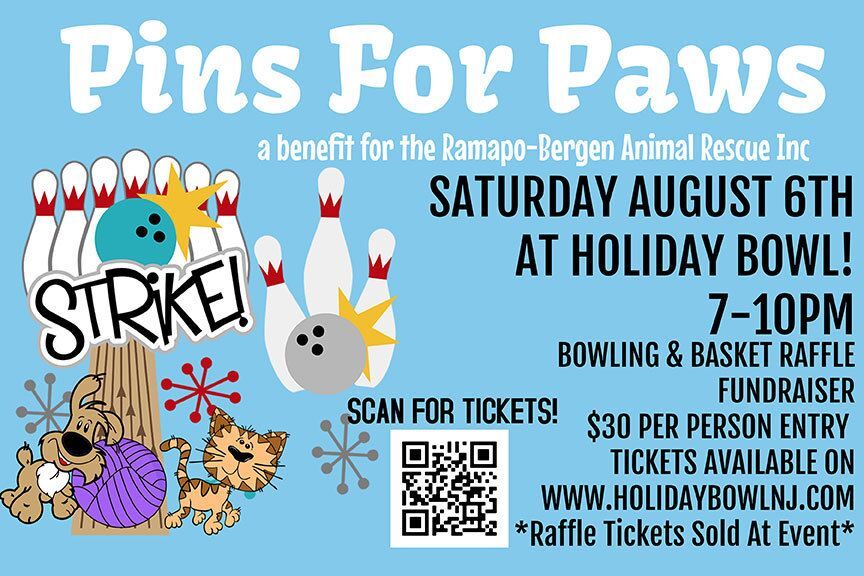 Pins for Paws, a benefit for the Ramapo-Bergen Animal Refuge!
Saturday, August 6th at Holiday Bowl!
7pm - 10pm
Bowling & Basket Raffle Fundraiser
$30 Per Person Entry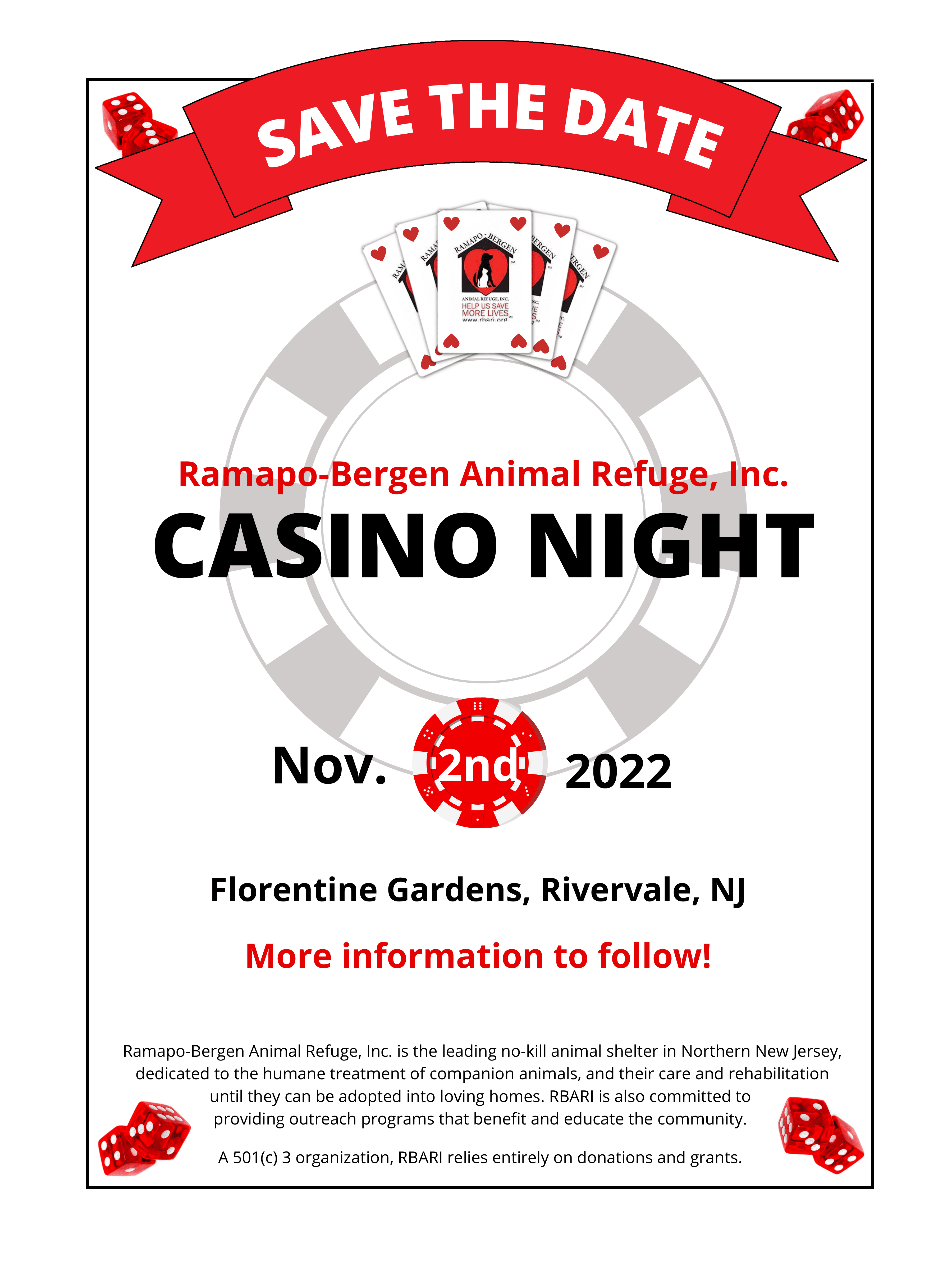 Ramapo-Bergen Animal Refuge (EIN 22-6094179) sincerely thanks our donors & sponsors: