---
Volunteering at RBARI
---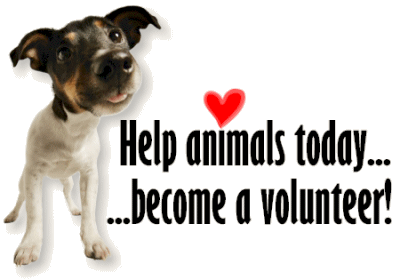 Our shelter was founded by dedicated volunteers and much of what we do to save more lives depends on the help of volunteers.
Volunteering is fun and rewarding and it's also a great way to help homeless animals. Just a few hours every week can make a big difference.
Volunteer Opportunities (currently unavailable - be back soon) (All volunteers working with our animals must be 18 years of age or older)
Cat Kennel Volunteer -Assist our staff in keeping our cats clean, healthy, and happy, with our morning cleaning, cattery companions, and our shelter cleaning and maintenance opportunities!
Dog Kennel Volunteer  - Assist our staff in keeping our dogs clean, happy, and exercised, with our kennel morning cleaning, dog walking, and shelter cleaning opportunities!
Events/Fundraising - Help with planning events, calling vendors, transporting animals and supplies, and more!
Front Office Admin - Help with planning events, calling vendors, transporting animals and supplies, and more!
Fostering - caring for an animal in your home on a temporary basis; all supplies and vet care provided
Grounds/Shelter Maintenance - Help the upkeep and beautification of our shelter and grounds!
Canister Program - Help expand our canister programs at local stores and businesses!
Transports - Assist the staff in transporting animals to and from the vet, events, and trips!
There are also many other ways you and your family members can help support our shelter beyond hands-on work with our animals.
Holding a wish list drive to help collect needed items for the shelter (click to check out our wish list!)
Posting flyers for upcoming events (in your town, work, etc.)
Sponsoring a RBARI animal through our Sponsor-A-Stay program!
Educating family/friends about spaying/neutering and responsible pet ownership
Sponsoring an outdoor cat for spay/neuter
Distributing information about RBARI at a local pet store/supermarket
Selling tickets for events (through friends, at work or via local retailers)
Hosting a third-party fundraiser at your business or shop
Become a corporate sponsor or participate in "Giving Back" programs with your business
When Volunteers Are Needed
Even though we are only open to the public during the posted business hours, our animals and staff need help from volunteers EVERY DAY!
*365 DAYS A YEAR*
HOLIDAYS INCLUDED
Monday, Wednesday, Friday, Saturday: 9:00 am to 6:00 pm (Cat Kennel 9:30 am to 5:30 pm)
Tuesday and Thursday: 9:00 am to 8:00 pm (Cat Kennel 9:30 am to 7:30 pm)
Sunday: 9:00 am to 5:00 pm (Cat Kennel 9:30 am to 3:30 pm)
If you have any questions, please give us a call at 201-337-5180, e-mail our Volunteer Coordinator at adurenberger@rbari.org.
Thank you for thinking of us and know how much we endlessly appreciate any and all help!