Volunteering at RBARI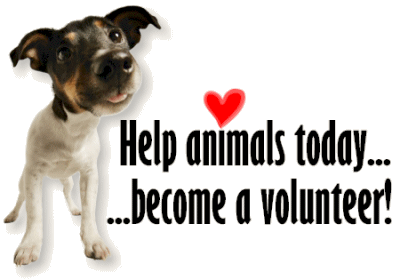 Our shelter was founded by dedicated volunteers and much of what we do to save more lives depends on the help of volunteers.
Volunteering is fun and rewarding and it's also a great way to help homeless animals. Just a few hours every week can make a big difference.
Volunteer Opportunities (All volunteers working with our animals must be 18 years of age or older)
Cat Kennel Volunteer - Assist with laundry, sweeping/mopping, litter pans/dishes, and socializing/providing enrichment to cats!
Dog Kennel Volunteer - Laundry, sweeping/mopping, dishes, socializing and providing enrichment and exercise to dogs!
(We are not currently accepting new Dog Kennel Volunteers at this time, but please continue to check back for updates!)
Events/Fundraising - Help with planning events, calling vendors, transporting animals and supplies, and more!
Our main fundraisers are the Whiskers & Tails Gala, Casino Night, Tricky Tray, and our Pitbulls and Pumpkins fall festival
Watch for other fundraisers on our website as well as Facebook
Front Office Admin - Help with planning events, calling vendors, transporting animals and supplies, and more!
Fostering - caring for an animal in your home on a temporary basis; all supplies and vet care provided
Grounds/Shelter Maintenance - Help the upkeep and beautification of our shelter and grounds!
Kennel Help – Cleaning cages, feeding, socializing the dogs and cats, dog walking
Transports - Assist the staff in transporting animals to and from the vet, events, and trips!
There are also many other ways you and your family members can help support our shelter beyond hands-on work with our animals.  
Fundraising (donating proceeds from a bake sale, car wash, garage sale, etc.)
Helping organize events by joining event committees such as our yearly Tricky Tray, Whiskers & Tails Charity Ball, Pitbulls & Pumpkins, and more!
Holding a wish list drive to help collect needed items for the shelter (click to check out our wish list!)
Posting flyers for upcoming events (in your town, work, etc.)
Sponsoring a RBARI animal through our Fund-A-Friend program (returning soon!)
Educating family/friends about spaying/neutering and responsible pet ownership
Sponsoring an outdoor cat for spay/neuter
Distributing information about RBARI at a local pet store/supermarket
Selling tickets for events (through friends, at work or via local retailers)
Transporting (occasionally drivers are needed to transport cats/dogs within the Tri-state area to bring to the shelter or pick up donated items)
Helping with shelter communication (mailings, invitations, etc.)
Donating photocopies of needed shelter forms
Maintenance (painting, landscaping, carpentry, electrical, plumbing, help with small jobs at the shelter) 
Before you start, we'll need you to fill out an application form and attend volunteer orientation (returning soon!)
When Volunteers Are Needed
Even though we are only open to the public during the posted business hours, our animals and staff need help from volunteers EVERY DAY!
*365 DAYS A YEAR*
HOLIDAYS INCLUDED
Monday, Wednesday, Friday, Saturday: 9:00 am to 6:00 pm (Cat Kennel 9:30 pm to 5:30 pm)
Tuesday and Thursday: 9:00 am to 8:00 pm (Cat Kennel 9:30 pm to 7:30 pm)
Sunday: 9:00 am to 5:00 pm (Cat Kennel 9:30 pm to 3:30 pm)
If you have any questions, please give us a call at 201-337-5180, e-mail our Volunteer Coordinator at volunteermgr@rbari.org .
Thank you for thinking of us and know how much we endlessly appreciate any and all help!