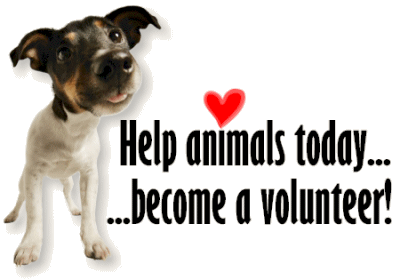 How do I become a volunteer?
RBARI has opportunities available for volunteers of all skill sets, availabilities, and interests! Please look at the available shifts and volunteer job descriptions on our website prior to filling out the application to see which would be a match for you. If you find an opportunity that you think would be a good fit, you can fill out our Volunteer Application through our website and complete the training steps!
---
Is there an age requirement to volunteer?
Volunteers must be 18 years or older for any of our opportunities. If you are younger than 18, please visit the below resources to help our animals in more ways!
---
What is the time commitment?
For volunteering directly with our animals, the minimum commitment is a standing one hour shift each week for at least six months. Please look at our other opportunities such as events, fundraising, canister program, transports, etc. if you need a more flexible schedule.
---
How soon after orientation can I begin volunteering?
After your orientation, you will schedule a training session to learn more about the volunteer position. We will then reach out to those applicants to see if they can fill one of the available shifts! 
*Training may take up to four weeks for specific opportunities due to orientation availability*
---
Can I bring my child, friend, or family member with me when I volunteer?
Unfortunately, we can not have volunteers under the age of 18 working at the shelter due to liability and our insurance. We also want to ensure that our volunteers are focusing 100% of their attention on the job at hand. 
Anyone who performs the duties of a volunteer must be a registered and oriented volunteer of RBARI. This is for the safety of our staff, volunteers and animals.
---
Does RBARI offer foster opportunities to volunteers?
We do have a foster program that is open to RBARI volunteers. If you are interested in fostering, please fill out the foster application on our website.
---
How do I volunteer for events?
RBARI volunteers are welcome to volunteer at all events! Once you have attended an orientation, you will begin to receive volunteer emails with information on upcoming events and volunteer opportunities.
---
Can I pick up any infections or diseases at the shelter?
While we take every precaution to protect our staff and volunteers, the risk of contracting minor infections ( i.e. Ringworm), is present in all animal shelters and facilities with a large number of animals. We always ask that volunteers use precautions and follow our safety and cleaning protocols.
---
I have a disability. Can I still volunteer?
RBARI has a volunteer opportunity for everyone! Some of our volunteer opportunities (such as our caretaking and cleaning opportunities in our dog kennel and cat kennel at the shelter) require volunteers to be independent, in good physical condition, and be able to follow our cleaning and safety protocols at all times. However, we have different options for volunteers of all abilities such as our Canister Program and Events!
Ramapo-Bergen Animal Refuge (EIN 22-6094179) sincerely thanks our donors & sponsors: