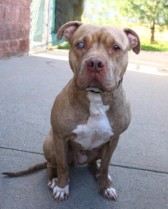 If there ever was a dog that embodies what RBARI is all about, it would be our sweet-natured Frank.
A RBARI staffer was at an urban shelter to bring some dogs back to us when she noticed a pit bull, newly rescued from the streets, huddled on the floor of a cage. He was blind in one eye from an old injury, and covered with open wounds as well as scars. He was still young, with lots of life ahead of him, but he looked like he had given up. A scarred pit bull might be passed over by some shelters, but not RBARI. We saw his true personality right away.
Frank was likely dumped on the streets and his wounds were similar to those found on "bait dogs." It was clear from the start that Frank was a lover, not a fighter. He had every reason not to trust people, but from the outset, he gave kisses, love and great pit bull smiles to the staff and volunteers who cared for him and took him for walks. He soon regained his zest for life.
Frank was adopted, but now, two years later, this 6-year-old recently was returned to RBARI when his adopter could no longer care for him. Poor Frank is understandably confused as to why he is back with us, and has been sad about the change in his circumstances.
We know his true forever home is out there somewhere. Because Frank was victimized by other dogs in the past, we would like to see him go to a home where he is the only dog, so he can relax. He loves to be active, so his ideal home would be one where he gets to go on walks and hikes regularly. If you would like Frank to start the new year with a new life and be rewarded with his special love, come to meet him soon.